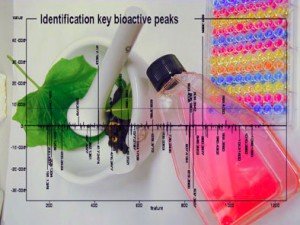 Plant chemical compounds for health promoting and pharmaceutical application.
Plants are a rich and almost inexhaustible source of health promoting and medicinal active chemical compounds. Small variations in culture and processing conditions may have severe consequences for the requested medicinal effect: the plant may work sub optimal, work not at all or even may have adverse effects. These uncertainties often hampers the promotion of plant products with health claims.
Fytagoras has, in close collaboration with Leiden University, The Applied Science Universities of Arnhem Nijmegen (HAN), Utrecht (HU) and Dronten (CAH) and the pharmaceutical screening platform Pivot Park Screening Centre, developed a technology (Green Health Technology) that provides a solid solution to problems related to uncertain or unclear efficacy of plant products. The Green Health Technology is based on large scale testing (screening) in ethical animal models combined with automated screen platforms as used in the pharmaceutical industry. In short, screening assays in a lower organism (nematodes) predict the effects of plant products in a higher organism (e.g. humans).
The focus of Fytagoras is currently on the screening of plants that can be used as medicine in metabolic diseases like obesity and diabetes type 2, tumour suppression and the screening of plant toxic effects.
Download flyer "Green Health"
See also (in Dutch)  "Worm test nieuwe medicijnen"