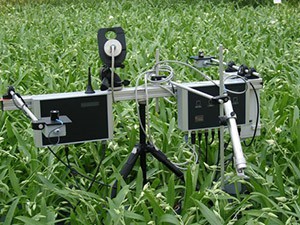 What is the growWatch?
The growWatch is a concept consisting of a combination of sensors, software and a practical advisory service. The sensors measure, among others, the CO2 level, PAR light and plant stress levels. By having a solid analysis of the measured parameters the growWatch contributes to an improvement of the company perfomance.
Measuring with the growWatch
Small adjustments in the climate can have large effects on the sugar production in plants. By having a clear view of this process, the crop perfomance can be improved considerably.
Many companies grow plants at different locations or work in close collaboration with companies at other locations. For these companies it is important to follow on-line the crop preformance at the different locations with the growWatch system.
Working with the growWatch
The sensors are positioned around and on the plants. Every 5 minutes the data is collected and transmitted wireless to a central server. Via a website log-in the user can see the data and the data analysis every moment from every location. From a distance our crop performance specialist views the data as well and will visit you 8 to 12 times a year to evaluate the performance and discuss possible improvements.
Download the "growWatch flyer"
Download the "growWatch for seed production flyer"
Download detail information "application of the growWatch in practise"